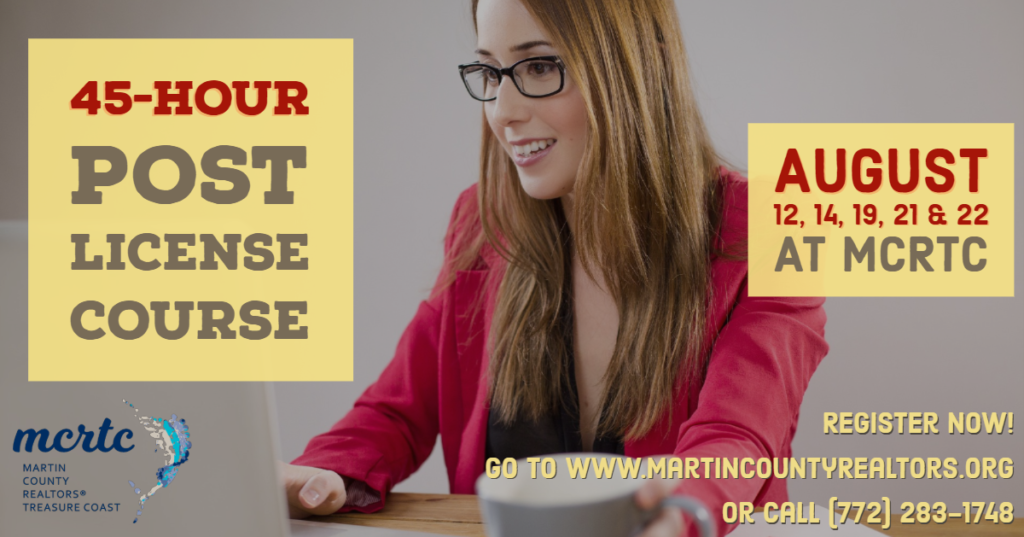 Are you a new Florida real estate sales licensee in need of your 45-hour post-licensing course requirement? Look no further! MCRTC will be hosting this course in the month of August right here at our Association office in Stuart! (All new sales licensees must complete this course prior to their first license renewal date)
Interactive Course Topics Include:
How to Sell Real Estate
Working with Buyers and Sellers
Comprehensive Overview of Financing
Valuating Real Estate and Investment Property
Class Info
Dates and Times:
August 12th, 14th, 19th, 21st, and 22nd
9:00 a.m. to 4:00 p.m. each day

Tuition:
$195.00 Cost includes all course material.
Registration
Please register now if you plan to attend. A minimum of 10 participants is required to host this course.
MCRTC members can register for this course using the button below. Non-members who wish to register, please call us at (772) 283-1748.