MCRTC offers all MLS participants and qualifying affiliate members the Supra System. Sturdy, reliable and secure keyboxes hang on your listed properties to allow only authorized Realtors® access to showings. The Supra system is integrated with the MLS to create a real-time, comprehensive record of all showings and other accesses to your listings, and allows MCRTC MLS members to access Supra keyboxes throughout South Florida.
For any questions, contact MCRTC during business hours at 772-283-1748.
If you already have a Supra key and need technical assistance, please contact the Supra Help Desk at 1-877-699-6787, 7 days a week.
---
eKEY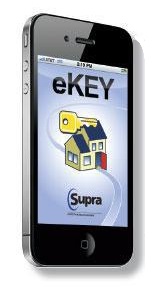 The eKEY system works on any Apple or Android smart device using the Supra eKEY app.  MCRTC staff must first create an account for the member. Then, they will download and install the Supra eKey app and activate it with the authorization code provided.
Setup an eKEY Account
Download the eKEY App
Get Authorization Code (existing keyholders only)
eKEY Resources – Click here for User Guides
---
iBox BT LE
The iBox is a secure Bluetooth keybox which provides a safe, secure access point for Realtors® to access listings throughout Southeast Florida.
Order a Lockbox
Lockbox User Guides
Do you have boxes to sell?  iBoxes issued by MCRTC and in "Leased" status can only be transferred to other MCRTC MLS members. Please fill out the Transfer Form and give it to the Purchaser upon sale of boxes.
Download MCRTC Transfer Form
---
SupraWeb
All Supra keyholders can create an account on SupraWeb. SupraWeb provides showing information, printable reports, feedback, billing, and much more! Click below to create an account now.