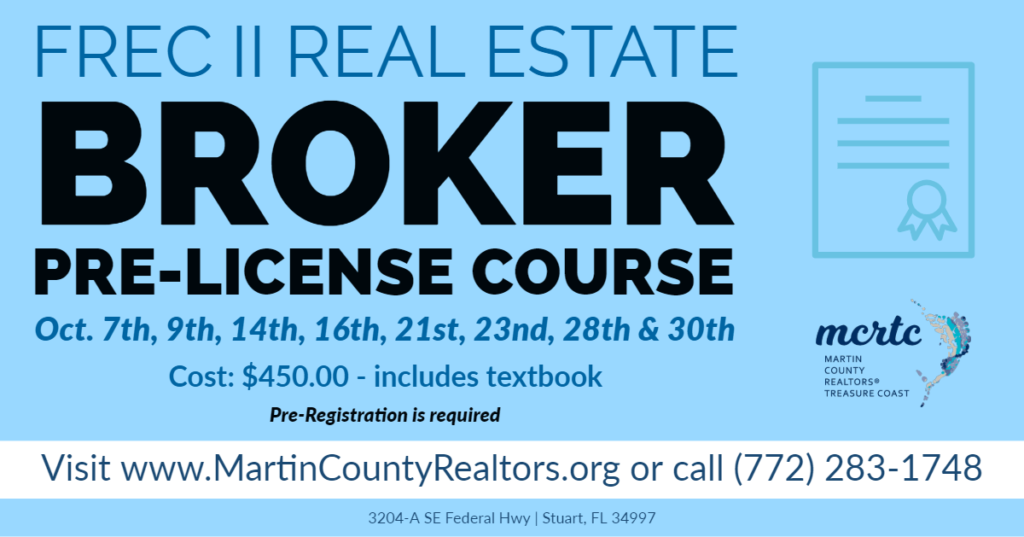 Looking to become a Florida Real Estate Broker? Have you been licensed and active for at least 24 months? Then you qualify to take the next step.
The Broker Pre-Licensing Course is a state mandatory 72-hour session.
Topics include:
Opening your real estate office
Recruiting and managing agents
Listing and selling property
Financing, valuating, property transactions
Analyzing investment real estate
This comprehensive course will prepare you for success on your state exam.
Instructor: Jennifer Segala, Gateway School of Real Estate
Class Dates:
Mondays & Wednesdays in October:
Oct. 7th, 9th, 14th, 16th, 21st, 23rd, 28th & 30th
9am-5pm each day
$450.00 Registration fee, includes textbook and materials.
MCRTC Members can click the link below to register. Non-Members please call us at (772) 283-1748 to register.