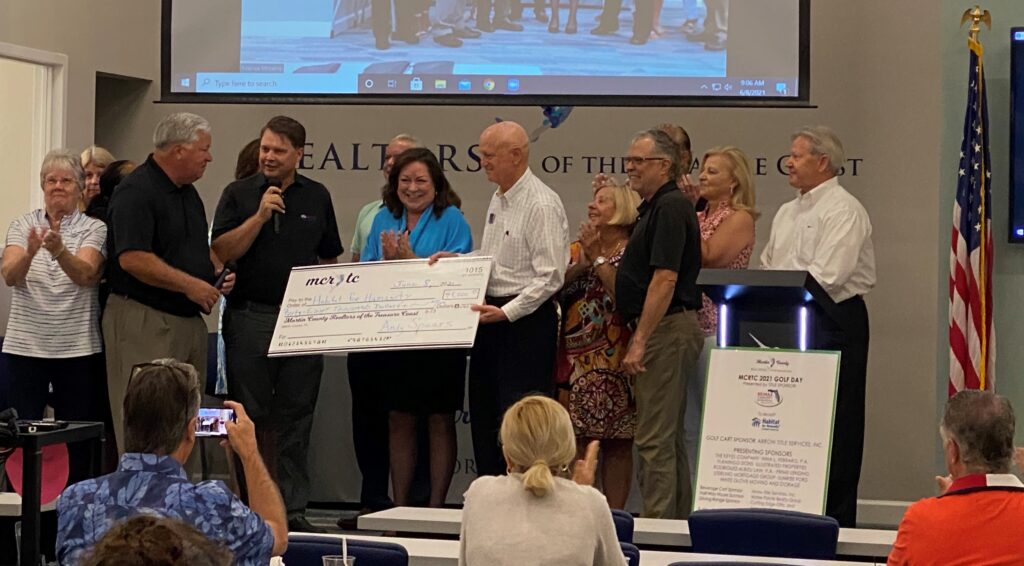 STUART—Local REALTORS® know all too well that the Martin County real estate market is hotter than a sidewalk on an August afternoon.
But as rising home prices shatter records, the affordable housing challenge grows larger than ever.
Thankfully, the same can be said for the dollar amount local REALTORS® raised recently in support of Habitat for Humanity of Martin County—the one local nonprofit with a record of results for overcoming economic hardship through homeownership.
In May, Martin County REALTORS® of the Treasure Coast gathered at The Florida Club in Stuart for its annual golf outing to benefit Habitat.
A check for $48,000 was presented to an ecstatic Margot Graff, executive director of Habitat for Humanity of Martin County.
"This will be the start for our new building project at Pettway in Hobe Sound!," exclaimed Graff. "We are so grateful to Martin County REALTORS®, who never cease to amaze us each year, setting their goal higher and higher since adopting us as the charity of choice.
"There are so many REALTORS® in this community who advocate on our behalf and generously give individually to support our mission of home ownership," she added. "It's a beautiful partnership that makes a lasting difference in the lives of local families in need."
To date, Martin County REALTORS® of the Treasure Coast is grateful to have raised almost $200,000 for the nonprofit organization—and humbled to partner with them each year, says Andy Spears, president of the Martin County REALTORS® of the Treasure Coast.
"We're honored to support the efforts of Habitat for Humanity of Martin County, which is really leaning in to one of the most significant and complex challenges in our community—in our state, as a matter of fact—and they're making a major difference for families in need," says Spears.
Working with Martin County individuals and families seeking to escape substandard housing, the local chapter of Habitat prepares candidates for homeownership through courses on budgeting and home maintenance. In addition to putting money down and paying monthly, no-interest mortgage payments, Habitat requires its homeowners to invest at least 300 hours of labor—sweat equity—into helping build their own home or the home of another Habitat family.
Describing its guiding philosophy as "a hand-up, not a hand-out," Graff credits the recipe of preparation, personal involvement and empowerment with Habitat's sterling success rate. In just over three decades, the local chapter has built 146 homes for Martin County families. Only once did a homeowner fall short of honoring their mortgage obligations.
The median sales price of single-family homes in Martin County during April was $490,000 —$138,000 more than 2020 during the same month. Although great news for residents and investors, the increases also complicate the already challenging affordable-housing issue, says Spears.
"Homeownership is life-changing—it's what enables people to enjoy stability, improve their standard of living, build wealth and establish a pattern of ownership that their children can uphold," says Spears. "Advancing homeownership is the ultimate purpose of our profession—it's what we work for and when we get involved politically, it's what we fight for, locally and at the state. We're proud of our efforts—but nobody gets results locally like Habitat for Humanity of Martin County."
A dedicated voice for property rights, Martin County REALTORS® of the Treasure Coast advocates for local, state and federal policies that advance homeowners' priorities as well as protect such invaluable natural resources as the St. Lucie River, Indian River Lagoon and county beaches and shores.