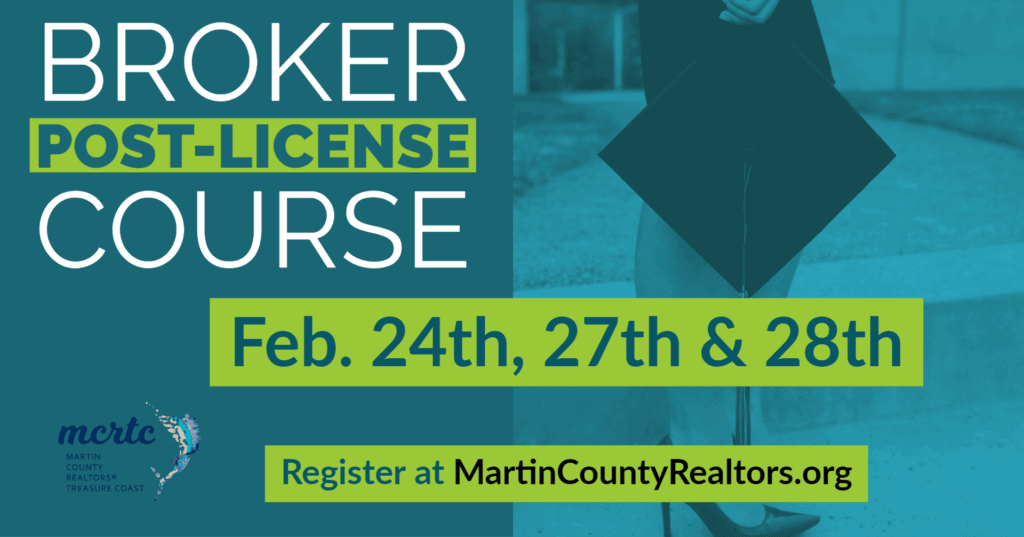 This Broker Post-License course consists of two 30-hour courses for the mandatory 60 hours of post-license education.
The first part is taught in a classroom at MCRTC. The second part is offered online through the Gateway School of Real Estate.
Part One: FREC Real Estate Broker Post-License (Taught at MCRTC)
30-hours of Brokerage Office Management
This course teaches the policy and procedures needed to run a successful real estate office.
Learn about emerging trends impacting the activities and operation of today's real estate office.
Learn about Business policies and procedures, structuring the organization, marketing and advertising.
Explore listing presentations, sales contracts, and the closing process.
Class Dates:
Monday, 2/24/20, 9:00am- 4:00pm
Thursday, 2/27/20, 9:00am- 4:00pm
Friday, 2/28/20, 9:00am- 4:00pm
Course Fee: $175.00, includes course material and textbook.
Non-Members: Please call us at 772-283-1748 to register
---
Part Two: 30-Hour Florida Broker Post-Licensing Investment Course and eBook Package
Online version:  $130 at Gateway School Of Real Estate.